14/02/2018
Roctool induction heating technology used to characterise ELIX Ultra HH4115HI
ELIX Polymers, a leading producer of ABS polymers and blends, says important improvements to surface finish are being made by using Roctool's Heat and Cool technology to mould its ELIX Ultra HH4115HI ABS/polycarbonate blend. The company recently completed a series of tests using this technology, carried out in line with its strategy of providing tailor-made solutions and service to companies processing its specialist materials.
"We are operating in a highly competitive market, so it is important for us to go the extra mile to demonstrate to our customers how they can get the most out of our materials," says José Pedro Abad, business Development Manager Automotive. "We wanted to quantify the possible improvements – in terms of part aesthetics and also processing performance – using Heat and Cool technology. We chose to use Roctool induction heating technology to characterise our innovative ABS/PC blend ELIX Ultra HH4115HI, which is a leader of Heat and Cool technology (H&C), in order to expand the already wide range of applications." continues Abad.
The material characterisation is part of Roctool's ongoing effort to further develop its High Definition Plastics™ material database which is designed to help OEM's to achieve exceptional part quality and increased performance" comments Mathieu Boulanger, Roctool CEO. "Roctool's H&C can have significant effects on surface quality; it also helps to eliminate evidence of weld lines and flow marks. Mould cavity surface is heated very quickly up to temperatures that can exceed 200°C just before injection. The surface is then cooled quickly, to achieve the necessary demoulding temperature to minimize any increase in total cycle time." continues Mathieu Boulanger.
By heating the mould temperature above the glass transition temperature, we obtain excellent replication of the cavity surface – even surfaces that have the finest laser-made grain structures – as well as an elimination of weld lines and sink marks. It therefore reduces or even eliminates the need for painting or in-mould decoration. Furthermore, shear stress in the melt is reduced which can have an important effect on the mechanical properties of the part and thinner walls.
To characterise the innovative ABS/PC blend ELIX Ultra HH4115HI under H&C conditions and according to the HD Plastics™ process, Roctool characterised the surface replication following three types of surface structures: Chemical grain, EDM grain and laser grain as well as improvements in gloss and colour. Besides surface replication, flow length studies have been also carried out.
"HD Plastics™ characterisation highlights the improvement made by using Roctool technology with global surface quality improved by the level of gloss and the black intensity. Indeed, Roctool's technology allows a reduction of the colour lightness and we obtain a 'piano black' part with a perfect surface finish." says Abad. In addition, replication of the textured surface was improved by over 50%, and there were significant improvements for each type of surface structure, especially with low roughness. Last HD Plastics™ characterisations are based on the study of the flow using the Spiral mould for thicknesses of 1 and 1,5mm. This study shows strong improvement using Roctool technology versus conventional technology, in terms of pressure drop reduction which is up to 60% and flow length up to 100%.
The following graph shows a flow length for 1mm and 1.5 mm thicknesses at two different temperatures (70°C and 180°C).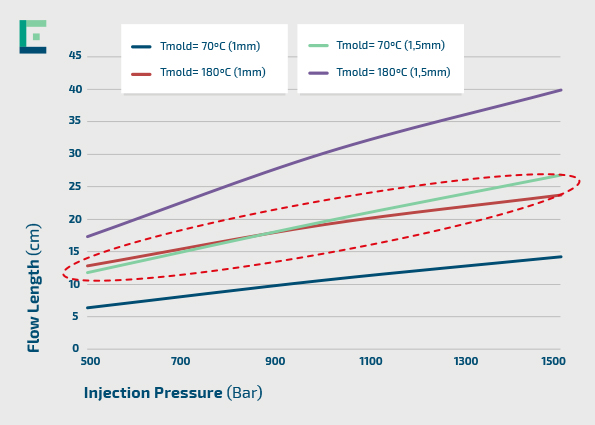 This graph demonstrates that using Roctool technology can reduce the thickness of your injected part from 1.5 mm to 1 mm (as can be seen by the red circle above).
"ELIX Ultra HH4115HI ABS/PC is now included in the HD Plastics™ material database according to the great results demonstrated by the characterisation. The outstanding properties of this material will help us select ELIX Ultra HH4115HI ABS/PC as an excellent candidate for upcoming projects with OEM's." explains Dr Feigenblum, Roctool CTO.
ELIX Ultra HH4115HI ABS/PC, which was introduced just over a year ago, has several advantages over a PC/ABS (which contains less ABS and more polycarbonate). It is for example around 5% less dense, it has lower emissions and odour, a higher flow rate, and higher impact strength. It is suitable for crash-relevant parts such as interior trim and parts that may be subject to knee or head impacts, as well as for exterior applications such as pillar covers and other painted side mouldings.
As with other grades from ELIX Polymers, pre-coloured material in OEM colours is possible, as are tailor-made solutions with special additive packages for very demanding part requirements.
---
分享